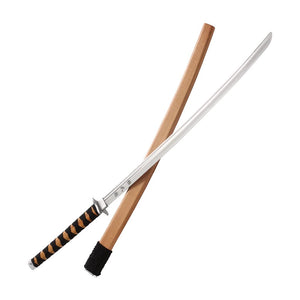 XMA Xtreme Sword
Exemplify the spirit of XMA with this beautifully crafted competition sword.
Blade is made from aircraft grade aluminium and features: blood groove, XMA Kanji symbol laser etching, Non-sharpened with a serrated edge and polished to a high shine.
Handle and scabbard are made from natural red oak.  Includes braided cording for securing your sword to the scabbard. Blade cannot be sharpened.
Unique x shape handguard.
Available in three lengths:
71 cm (28") overall length with 48 cm (19") blade 
85 cm (33.5") overall length with 58 cm (23") blade
96 cm (38") overall length with 65 cm (26") blade
We are a Wellington martial arts supplies warehouse but we ship orders to anywhere in the South Pacific including Australia, Fiji and all of New Zealand.