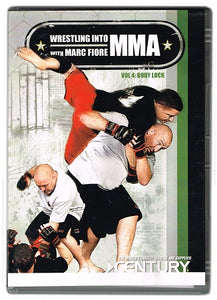 Volume 5: Take Downs off the Cage
Marc will show you how to use the cage to your advantage by demonstrating various take downs off the cage, including scoop double leg, underhook drill, high single and double leg.
Marc Fiore's professional coaching career highlights include
coaching the US Army's World Class Athlete Program to win numerous National Championships;

The 2000 Army US Olympic Trials team;

US Olympic wrestling coaching staff in 2000

coaching two World Champions. Marc cornered for Matt Hughes during 6 UFC championship bouts in 6 years. Marc was a coach on The Ultimate Fighter and helped lead "Team Hughes" to victory in the show's finale.

He also cornered for Robbie Lawler at his EliteXC World Championship fight. Marc is the main wrestling/grappling coach and founding member of the H.I.T. Squad.
Our warehouse is in Wellington but we can, and do, ship everywhere in Australia, New Zealand and the entire Pacific region.