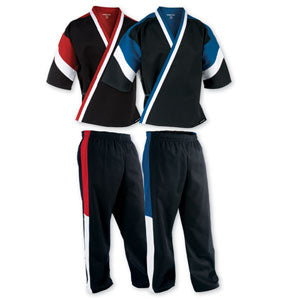 The clean, horizontal lines featured on this uniform make a bold statement in practice or competition. Constructed of a 7 oz. middleweight cotton-polyester blend fabric, this uniform features a traditional crossover jacket and elastic waist and drawstring pants.
Sizes: 1, 2, 3, 4, 6 & 7
Colors: Blue or Red

Code: 04514
We're based in Wellington, NZ, but can quickly  send your order to Australia, Fiji or anywhere else in the South Pacific region.