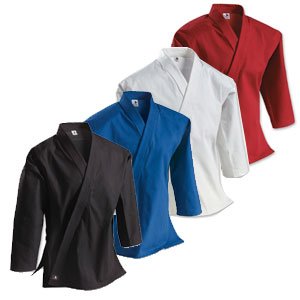 8 oz. 100% cotton fabric balances comfort with durability. Available as separates or as a complete traditional uniform.
This traditional Jacket has six rows of stitching on the sleeve hem to provide greater strength. Reinforced vents for added durability. Locked down seams lay flat providing added comfort. Inside ties hold jacket in place. Made from 100% cotton.
Colours: Black, Red or Blue
Sizes: 3-6

Code: 02191-2

We are from Wellington and can quickly ship your order anywhere in the South Pacific region, including Australia and Fiji.