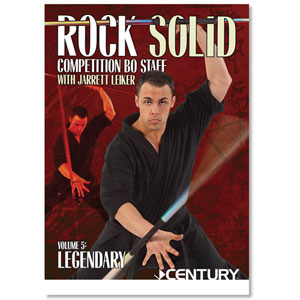 Jarrett Leiker has been a lifelong practitioner of martial arts, starting at age 3 under the instruction of Jill and Bob Leiker. Jarrett is a 16-time professional world champion, including titles in NASKA, WKA, WSKF and NBL. He is also a 3-time SKIL amateur world champion and winner of the 2011 Warrior Cup at the AKA Grand Nationals. Jarrett holds world titles in point sparring, traditional weapons, creative weapons, musical weapons and traditional forms, making him one of the most well rounded martial artists in the world today.



Volume 1: Beginner


Jarrett will show you basic warm ups, stances and combos including an 8 strike combo and X strike combo.

Volume 2: Intermediate


Combo variations to enhance your technique will include hook, scoop, flick, adding the sweep, behind the back pass to release, tornado pass and more.



Volume 3: Advanced


You will learn advanced combos and variations such as neck roll turns, swing combo, palm spins, under the leg releases and more.



Volume 4: Elite


Jarrett teaches three elite combos in addition to many elite moves like anti-gravity, spinning leg pass, vertical toss to neck roll and more.



Volume 5: Legendary


The legendary moves that have made Jarrett a legend in the competition world are explained for you here with the debut of double bo techniques and combos never before seen.
Each volume sold separately