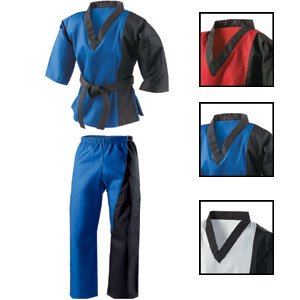 Constructed of middleweight 65% polyester, 35% cotton wash and wear fabric.
Pullover top features V neck.
3/4 length sleeves and side vents for ease of movement
Pants are made with a 1-1/2 inch elastic waist and drawstring.
Belt sold separately.
Colours: White with Black, Red with Black or Blue with Black.
Sizes: 0- 6.
Code: 04510
This uniform is suitable for a range of Martial Arts disciplines, including
but check with your club or instructor.
We are a New Zealand supplier based in Wellington, but we can ship your order to you anywhere in Australia, New Zealand or the entire South Pacific region.