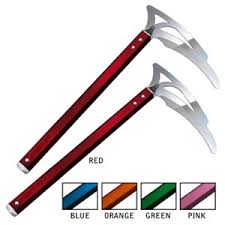 Makes a great show piece for your collection! The kama (鎌 or かま) is a traditional Japanese farming implement similar to a sickle used for reaping crops but also employed as a weapon. It is often included in weapon training segments of martial arts.
Extremely lightweight
Colour embedded in the metal for a durable finish.
Die-cut blades provide an updated look.
Colours: Orange, Green, Blue, Red or Pink
Code: 127210
Size: 14"
Imported
Sold in pairs.
We are a New Zealand based martial arts equipment supplier and we ship to Australia, Fiji or anywhere else in the South Pacific region. Give us a try today!