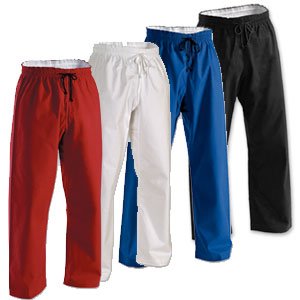 8 ounce 100% cotton fabric balances comfort with durability. Available as separates or as a complete traditional uniform.
The Elastic Waist Pant has a 2 inch elastic waist with drawstring. A generous gusset and thigh allow for maximum mobility. Six rows of stitching on the hem provides greater durability and structure. Made from 100% cotton.
Colours: White, Black, Red or Blue
Sizes: 3-6
code: 03291-2
These pants are suitable for a range of Martial Arts disciplines, including
but check with your club or instructor.
We can ship your order anywhere in New Zealand, Australia, Fiji and everywhere else in the South Pacific. Give us a try today.