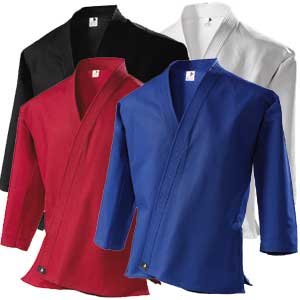 12 oz 100% cotton traditional Martial Arts jacket, available in a range of colours. Tough and long lasting.

Sizes: 3-6. 
Colours: White, Black, Red or Blue.
Code: 023-1-1
This uniform is suitable for a range of Martial Arts disciplines, including
but check with your club or instructor.
We can ship Martial Arts supplies to Auckland, Wellington, Christchurch, Dunedin and anywhere else in the North and South Islands of New Zealand, Australia and the South Pacific region!