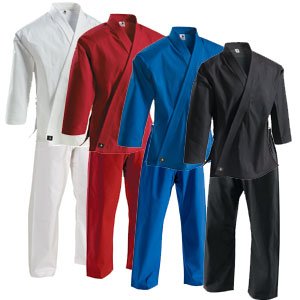 The Martial Arts uniform you have been asking for!
Includes both a traditional jacket and elastic waist pant with a drawstring of the same colour. Constructed of 10oz. 100% brushed cotton fabric with reinforced hem and vents for increased durability.
Colours: Red, Black or Blue
Sizes: 3, 6 & 7
Code: 0439
This uniform is suitable for a range of Martial Arts, including
Karate
Aikido
Jiu Jitsu
Hapkido
MMA
Brazilian Jiu Jitsu (BJJ)
Capoeira
but check with your club or instructor.
We ship to Auckland, Wellington, Christchurch and anywhere  else in New Zealand! In fact, we can get your order to you anywhere in the South Pacific, including Australia and Fiji.